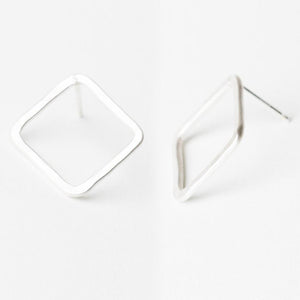 E125 - Square Post Earring
Hand forged, brushed square post earring.  Available in 14k yellow gold-filled, 14k rose gold-filled, and sterling silver.  
Diameter:  5/8" diameter, side to side
Because this is a handmade item, this product can vary slightly in shape and size than what is pictured making each item unique and all the more special.
All rose gold-filled items are soldered with yellow gold solder and posts and backs are yellow gold filled.
Made in California.
Please inquire for any special requests or custom orders.
gold filled large circle earring.